Kinetic Sand frequently asked questions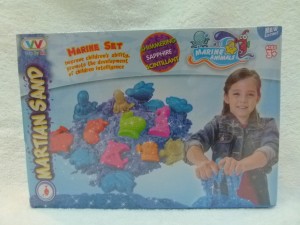 FAQ: 
Q: How should I store my Kinetic Sand?
A: You may store your Kinetic Sand in a regular tupperwear container.
Q: Why won't my Kinetic Sand stick together?
A: Have you used water with your Kinetic Sand? If so, please lay the Kinetic Sand flat on a piece of newspaper and allow to dry. Once dry store it in a tupperwear container to regain it's natural moisture to see if it helps.
Q: Why can't I get the sand out of the molds?
A: Ensure that you are packing enough sand into the molds so that it pops out easily and to ensure that the sand conforms to the image of the mold properly. You may also wet the mold slightly which helps with removing the molded Kinetic Sand design.